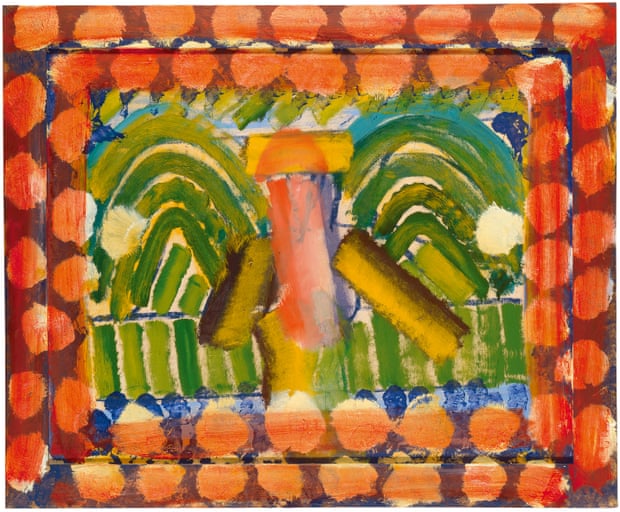 DH in Hollywood, Howard Hodgkin, 1980-84
It wasn't my intention to have such a packed day. But I'd already booked a concert ticket to hear some
wonderful Sibelius
yesterday evening and then I got a cheap matinée ticket for this
Broadway production
of The Glass Menagerie and that was clearly too good to resist. So, after grabbing a sandwich, that left me with just over an hour to fill in between - and I crossed the road to the National Portrait Gallery because where better to fill in an hour? I was only looking for somewhere to dawdle - but WOW, their exhibition of Howard Hodgkin's portraits is quite glorious.
And good fun. The thing about Hodgkin is that his paintings are always about something. But sometimes it takes a minute to get it. Pink, phallic David Hockney with a swimming pool splash and Hollywood palm trees made me smile ...
Mr and Mrs Patrick Caulfield, 1967-70
And Mr and Mrs Patrick Caulfield was clever ... as long as you know who he is.
Chez Stamos, 1998
On the other hand, I haven't a clue who Stamos might be - but I'd love to be epitomised in a cascade of peacocky blues (and this was a huge painting).
Mr and Mrs Stephen Buckley, 1974-76
The Stephen Buckleys are sitting in frontof the fire in a holiday house near Rye. In autumn.
In Bed in Venice, 1984-88
Waking Up in Naples, 1980-84
Not sure whether I'd prefer to be In Bed in Venice or even more sensuously Waking Up in Naples.
Howard Hodgkin died a couple of weeks ago. What a gorgeous last exhibition.
And then ... there were magnolias in Sloane Square on my way to Cadogan Hall.
And that last movement of Sibelius's Fifth Symphony has been playing in my mind all day.