The Mother of Sorrows, 1926
I spent a long time gazing at this Harry Clarke window in the National Gallery of Ireland last week. The detail is simply exquisite and you can
see it better
here.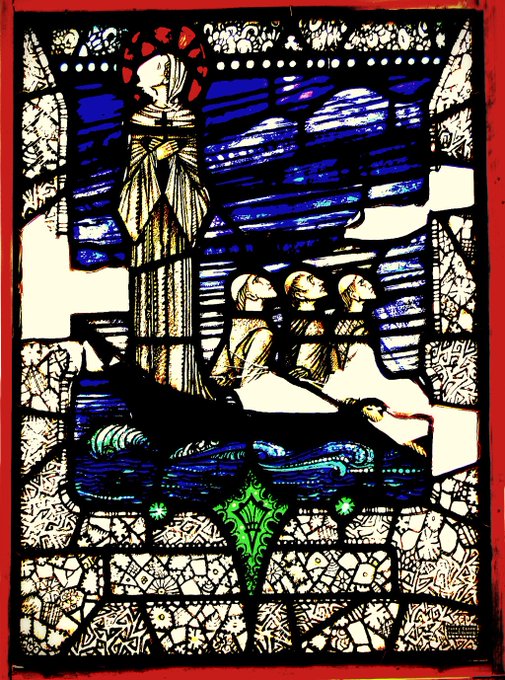 By chance, the day before, I'd happened on another Harry Clarke - sadly damaged - in the quirky
Little Museum of Dublin
on St Stephen's Green. It was found in a skip ... can you imagine! And it's signed, too. I'd love to know more about who found it - who chucked it - and when. There's nothing in skips around here except old IKEA sofas.
I nipped in briefly to the Hugh Lane Gallery on a quest to see some portraits that I dimly remembered from a visit about 20 years ago; I think they related to
this poem by WB Yeats.
I remember being entranced, as the portraits seemed so alive. But perhaps it was a temporary exhibition; I couldn't find what I was looking for. And it was nearly closing time. But I did manage to see Harry Clarke's
The Eve of St Agnes.
I can't honestly say I like it; this one crosses a line that is too Celtic fairy-tale and Arthur Rackham-ish for my taste. And yet I'm still mesmerised by the lovely detail and his skill.
It was purely by chance that I wandered into this small exhibition at the National Gallery ... and then the penny dropped:
Margaret Clarke
was Harry's wife.
I hope I shall be able to attract your appreciation of my individual efforts as a painter, rather than the fact [that] I am the
wife
of one artist and the
pupil
of another,
she wrote in 1924.
I'm with her in spirit and I'm sure that artistic wives have often been unfairly overshadowed by their husbands ... but Margaret's work does seem rather ordinary compared with Harry's.
The English Breakfast, 1930: Irish Free State Butter, Eggs and Bacon for our Breakfasts
Still, I couldn't resist this poster she did for the
Empire Marketing Board
.... what a wonderful title!
Sunlight, William Orpen, c1925
And before we leave Dublin ... as soon as I saw this painting by Orpen, it reminded me of my lovely room in
this hotel.
Where the art collection is much easier on the feet.